FAQs
To bid online: https://mrjutzi.hibid.com/auctions
Can only dealers buy at your auctions?
M.R. Jutzi Auctions is a public auction. Each and every one of M.R Jutzi Auctions is open to the public. From vehicles to heavy machinery to lawnmowers, anyone can bid.
See also How to Buy at Auction
How can I find out about upcoming auctions?
We run a number of different auctions year round from municipal heavy machinery, woodworking, landscaping, tool and equipment, to our monthly public vehicle auction on the third Saturday of every month (excluding holidays).
We have our upcoming auctions listed our web site under, Upcoming Sales. You can join our e-mail list to find out directly when we have an upcoming sale at E-mail List. You can also find our auctions as events on Facebook. Click 'Interested' or 'Going' to get all the latest updates on each auction.
Be the first to know!
Where do you get the vehicles from?
We have been doing public vehicle auctions for over 40 years. We sell vehicles on behalf of various municipalities, banks, leasing companies and police departments from across Southwestern Ontario. We typically have over 50vehicles every month to choose from so there is something for everyone.
Do you have a buyer's fee?
Due to the increase cost of online auctions we regretfully have to add a 11% fee to all small items, and a 6% fee to all licensed vehicles.
All Sales are Final:
Be sure to inspect all items to your own satisfaction as all items and vehicles are: as is, where is and all sales are final. In order to find out how much an item is worth, you should take the time to do a little research on similar or identical items. Looking up an item online and checking out how much they are new/used is a good way to decide how much you would like to bid.
You are welcome to bring your mechanic along with you to take a thorough look at the vehicle(s). The Auto Trader or Carpages website is ideal to see what similar vehicles are being sold for as well as local news papers and websites such as Kijiji. Be sure to look at vehicles with comparable year, kilometres, features and editions (i.e. LS, LX, SLT, GT etc.)
Payment:
Despite requiring a credit card to register on HiBid, we don't take them for payment. You can pay using: e-transfer, debit, cash, cheques (up to a certain amount) backed up with a credit card, bank drafts, money orders and certified cheques.
How To Buy At Auction
Due to the ongoing pandemic all our auctions are still online only.
Registration
Currently all our auctions are still online. Our auctions are hosted on the website HiBid. In order to buy you will need to create an account with them. To create an account go to Hibid: https://mrjutzi.hibid.com/auctions
You will need a valid credit card in order to create an account. Hibid will ping your credit card to make sure you're a real person. Please remember how you entered your credit card for each login.
To find the the login/new bidder sign up on a computer:

If you are on a mobile phone you can find the login by tapping on the three white lines: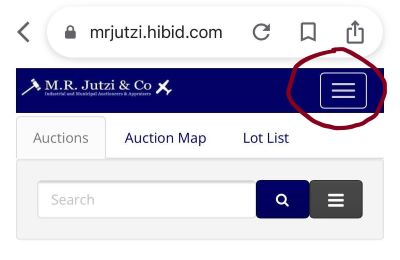 That will create a drop down menu where you will find Login/New Bidder: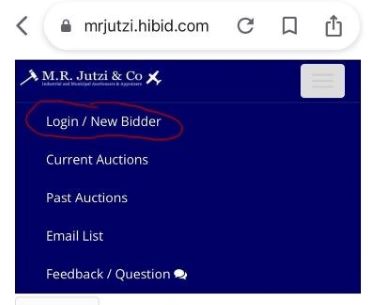 Once you have created an account, you will be able to bid with us and with any other auction HiBid hosts.
If you have any trouble creating an account you can contact Hibid in the following ways:
1. The best way is to email them: support@auctionflex.com.
2. On Facebook: you can message them on Facebook: @HiBidAuctionsCA
3. Unfortunately, HiBid doesn't seem to have a toll free number. You can call them long distance at: 1-352-414-1947
The Catalogue
Catalogue of vehicles and equipment (including pictures) are available online. Items and vehicles will be begin to be posted about a week before the auction closes. As a result, the auctions are continuously being updated. Check back every so often for changes and additions. The catalogue is the order in which items are expected to be sold as well as a brief description of the items and lot number. In the case of vehicles: year, make, model, kilometres, and any declarations are shown such as: safety certification or dash lights that are on etc. Please keep in mind that the catalogue is meant only as a guide and although we strive to make it as accurate as possible, you must satisfy yourself as to the completeness of the information.
Our Tool Auctions:
Our tool and equipment auctions run for a week. They normally begin on a Tuesday at noon and finish the following Tuesday at 4pm. The auction will begin a soft close at 2pm. All our tool and equipment auctions end with a soft close. A soft close means that as an item is about to close/be sold, if anyone bids in the last few minutes or seconds another 2 minutes will be added. This ensures that no one can swoop in at the last minute. A soft close gives everyone a chance to bid!
If you'd like to come out and see the items you can contact us to arrange a time. Otherwise we do have an open viewing on the Thursday and Friday from 10am to 4pm before the auction closes on the following Tuesday. Please see the upcoming auction sections for more info.
Removal of Items: Payment is due 48 hours after the end of the auction. Items must be collected within 2 weeks of purchase otherwise they will be forfeited.
Our Vehicle Auctions:
If you are new to our vehicle auctions, you will need to contact our office to provide a deposit in order to bid. Out of province buyers must call our office for transfer costs. We do not currently sell to out of the country buyers.
Our vehicle auctions normally take place the third Saturday of each month. This may change from month to month depending on where stat holidays land. All our vehicle auctions are all webcast live online beginning at 9:30am. Pre-bidding for the auction begins a week before.
If you'd like to come out and see the vehicles in person, we have in person viewing of the vehicles the Thursday and Friday before auction day from 10am-4pm. Masks are required at all times while on the property.
Auction Day:
The auction will begin at 9:30am with the auctioneer greeting everyone and stating some terms and conditions. Vehicles are auctioned off in order of lot number. Watch your screen to bid. Please click 'Bid' each time you'd like to place a bid. The auctioneer will give you fair warning before he announces a unit SOLD. There is a live chat so if you encounter any issues during the auction aka we're frozen or our sound has cut out, please don't hesitate to message us.
*Please note: that there is no admittance to the building on auction day.
Highest Bid:
If you have the highest bid you will be contacted by one of our staff members within the hour to place a credit card deposit to secure the vehicle. We will require a $500 Visa or Mastercard deposit. This deposit is a pre-authorization only and your card will only be charged if you walk away from the vehicle. HiBid does not share any credit information with any of its auctions so we need to collect that information from you on the day.
Vehicles Passed:
If a vehicle does not reach it's reserve then it will be passed. To make an offer on a vehicle that has been passed, please contact the office even as the auction is still in progress or Monday following the auction.
Vehicle Removal:
Towing or using a dealer plate are the only legal ways to remove the vehicle until it is in your name and plated. In the province of Ontario the vehicle will be registered unfit. This means you need to have a safety of the vehicle completed. Once you obtain a safety from your mechanic, take it and your proof of insurance to Service Ontario. At that point Service Ontario will issue you a license plate (if you are not transferring plates) and a sticker. Attach the plates to your vehicle and happy driving!
Remember since we are a registered dealer we remit the tax to the government on the price you pay here. The ministry cannot then charge you tax on the Red Book price. Yet another reason to buy your next previously owned vehicle here at M.R. Jutzi Auctions.
See us interviewed for the Toronto Star: